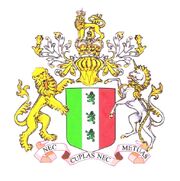 The House of Mac Donnchadha, also and more commonly known as the House of MacDonagh, is the current royal house of the Empire of Austenasia, Kingdom of Wilcsland, the Tsardom of Orly, Thebes, Saqqara, and the Kingdom of Etarnia, as well as the former royal house of Atantis and South Bank. It has been in the driving seat of the absolute monarchy for 9 years.
The House of MacDonagh is very large.
Royal House
[
]
The House of MacDonagh is seated in the ancient town of Wilton. It was created when Declan I created the Kingdom of South Bank in 2002. It has seen monarchy grow and evolve. Today the monarchy is stable but not so long ago it was anything but stable. The House of MacDonagh has remained in power though civil wars and pretenders claiming the crown. None of the people of Wilcsland have ever expressed a desire to become a republic.

Main Members
[
]
HRH Prince Ciaran of Wilcsland
HRH Princess Michelle of Wilcsland