The Empire of Moylurg was a short-lived incarnation of the Kingdom of Moylurg.
On 7 March 2010, King Declan I of Moylurg, Taklamacan, and Corran, unified those three Kingdoms into the Empire of Moylurg, with himself holding the title Emperor of Moylurg with the regnal name of King Tanwetamani.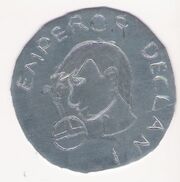 Although the political union remained, the following month the nation was renamed the Kingdom of Moylurg, and Declan I renounced the Imperial title and returned to his previous regnal name.